About us
Keeping the indian women in mind the firm "Better Form" bra and panty founded by Shri Udhawdas Makhija in 1949, who was the first bra manufacturer in Gujarat (India). Under his guidance and vision his son Mr. Suresh Makhija make the brand well-known all over with strong market network. As the time changes under the dynamic approach of Mr. Dhiraj Makhija and Mr. Amit Makhija (sons of Mr. Suresh Makhija) launched "CALIBRA" under their father's experience of years. "CALIBRA" is one of the companies which has been growing on an upward scale and stands for quality with a product range for customer satisfaction.
Calibra is register trade mark ( no - 1374184 )
ISO 9001:2000 certified company.
Participated in international fashion week - Poland in 2003 Poznan fashion week.
Manufacturing best quality of bridal set, bra, panty, camisole, slips.
One roof manufacturing.
High tech machines used.
Government of Gujarat Best
MSME Award - 2011
presented to Makhija intimates Ahmedabad.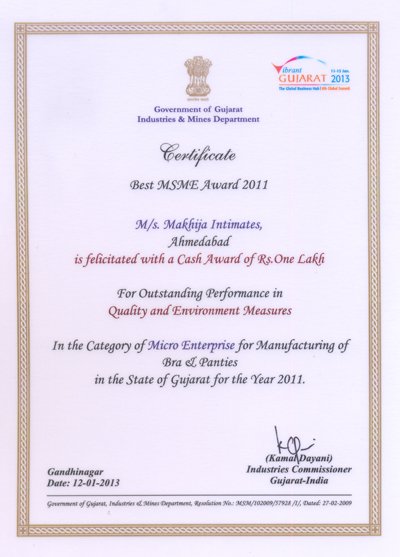 M/s Makhija intimates, Ahmedabad is feliciated with a
cash Award
of
Rs. One Lakh
for
outstanding perfomance
in quality and environment measures in the Category of micro- Enterprise for Manufacturing of
bra & Panties
in the State of Gujarat for the yer 2011.